our data
Each year we publish our statutory school data for Key Stage 1 and Key Stage 2, and also for the Year 1 phonics test. The DfE also publish our data. The information on these pages gives you an idea how we performed compared to county LA and to National figures.
Key Stage One
In Key Stage 1, the data is based on teacher assessment which is supported by teacher marked statutory tests. Attainment is reported as working at the expected standard (exp) or working at greater depth within the standard (gds).
Year One Phonics
All pupils in Year 1 were screened for their phonics understanding. Those pupils who did not pass in Year 1 previoulsy were screened again in Year 2. Our scores are going up which is very pleasing and the result of our evaulation and development of tracking and intervention.
Key Stage Two
The Key Stage 2 data is presented in line with the Interim Assessment Framework 2017. Reading, Maths, and Grammar, Spelling and Punctuation (GPS) were assessed by statutory tests. Writing was Teacher Assessed against the criteria in the Interim Assessment Framework.
The test subjects gave scores which indicated whether pupils were working towards or had reached the expected standard and those who had achieved high scores. In Writing, teachers could assess as working towards, working at or working at greater depth in the expected standard.
The raw scores are converted into a Scaled Score where 100 = expected standard and where 110+ indictates a higher score. The school scores below report averages.
Progress is measured from KS1. KS1 results are converted to a numeric value and this in turn is compared to a numeric value for KS2 results, whereby 0 = national average progress. Acceptable progress scores may range between -5 and + 5.
Information on Pupil Premium can be found under Our School / Pupil Premium.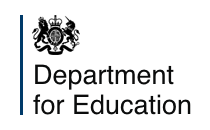 Click the logo to go to our Performance Data on the Department for Education website.