School Uniform
The school uniform consists of:
White or red polo shirt
Grey trousers, shorts, skirt or pinafore
Red jumper, cardigan, sweatshirt or fleece
PE wear should consist of:
Shorts and a plain T-shirt for indoor activities
Tracksuit bottoms (winter) shorts, T shirt and sweatshirt (winter), trainers (for outdoor activities)
Children should come to school in their PE kits on the relevant day.
For further information please see our Uniform Code attached below...
Red sweatshirts, fleeces and polo shirts bearing the school logo can be bought through our approved supplier Gooddies Ltd.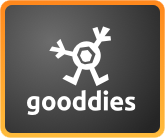 Please click on the logo to be taken to the website.
Should you wish to check sizes please speak to Mrs Irwin in the School Office.
Please ensure that each item of clothing is clearly named!
FORAS also sell second-hand uniform throughout the year.
Jewellery
For health and safety reasons the school follows Local Authority guidance in relation to the wearing of jewellery. Children should not wear jewellery to school other than small sleepers or stud earrings, these should be removed when children are taking part in PE activities. If children cannot remove their earrings independently, please don't wear them to school on PE days. Newly pierced ears may be taped for 6 weeks, so please provide your child with tape for PE lessons. No earrings can be worn for swimming lessons. Our advice is if you are wanting to get your children's ears pierced then please do so at the beginning of the 6-weeks holidays or better still wait until secondary school!