School Council
Each year we elect a School Council.
Every class from yr 1 to yr 6 have two School Council members who are elected from those within class keen to stand.
Responsibilities
School councillors have a range of responsibilities within school.
They act as a point of contact for pupils in school who wish to make suggestions to improve the school. They regularly meet with staff to discuss issues raised by pupils in class meetings.
They help to lead vertical circle-time assemblies and make notes to feed back within School Council meetings.
They always participate in interview processes for new members of staff. It is a serious responsibility and the Governors and teachers who have worked with school council in this capacity are very impressed with the children who treat interview candidates with great politeness, ask interesting questions and always share great insights into the strengths and merits of each candidate. Their views form an important part of the decision making process in appointing staff.
They can act as a central communication point for other projects. For example when a pupil voice project to reconsider how playtime space and equipment was used, the Pupil Voice Team who led the project asked School Council to lead research in each class about what pupils wanted and the Pupil Voice team gave feedback to the School Council about ideas they had gathered from other schools to help decide the direction of the project for our school.
Each year the School Council helps make decisions about charitable and social events like non-uniform days.
How to become a School Councillor
Every class asks candidates to write a manifesto explaining why they would make a good school councillor and what issues they think are important for school council to be involved with. Manifestos are displayed in class and each candidate presents their manifesto in class hustings.
On Election Day there is great excitement as the Hall is set up as our polling station. We have real polling booths so that each pupil's vote is confidential. We have real ballot boxes to post our vote into. Each candidate's name is on a class ballot paper and we are called to the Hall a class at a time to exercise our vote! It's just like a real election for Government.
Year 6 run the Polling Station to make sure everyone knows what to do and that it is fair.
The results of the election are announced in Celebration Assembly, it can be quite exciting and sometimes emotional. Last year our local councillor came to announce the winners.
Latest Projects
Vertical Circle-time
This year, we have introduced vertical circle-time assemblies on the first Monday of each Half Term. This provides a great opportunity for all children to have their say on important issues within school. Themes for discussion so far this year have been: School Dinners, Anti-Bullying and Playtime Equipment. For these assemblies, the children are mixed up across the Key Stage, with a representative from the School Council in each group. School Council representatives then meet together to feed back from these assemblies.
School Dinners
During the Autumn Term, our School Council had an important visit from Richard Holden. Richard is a Commercial Contract Manager from CCS, who are the catering company who provide all of our school dinners. Our Year 5 and 6 School Council representatives met with Richard to feed back opinions and ideas regarding our current school dinners, following our first vertical circle-time assembly. This discussion involved current likes and dislikes on the menu, portion sizes, level of choice and suggestions. As a result of these discussions, our school dinners have become better than ever.
Anti-Bullying
We recently reviewed the Anti-Bullying policy and gave an assembly to the whole school on aspects of bullying and what to do if we see it around school. We held a competition for pupils to design a poster about keeping safe from cyber-bullying. The winning posters are now on display in our classes and corridors!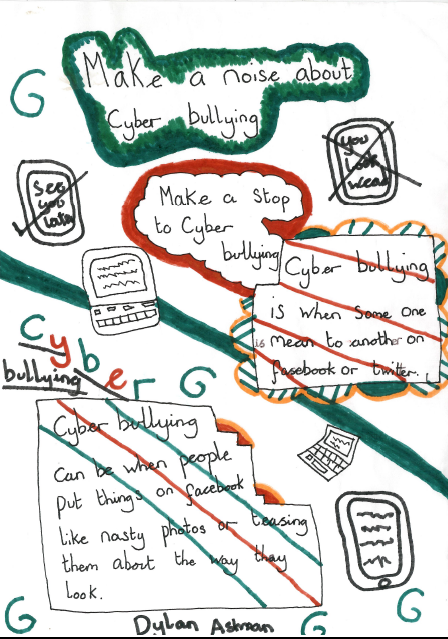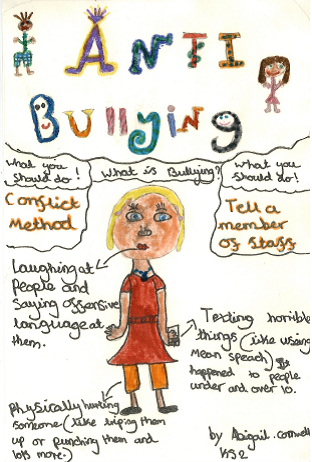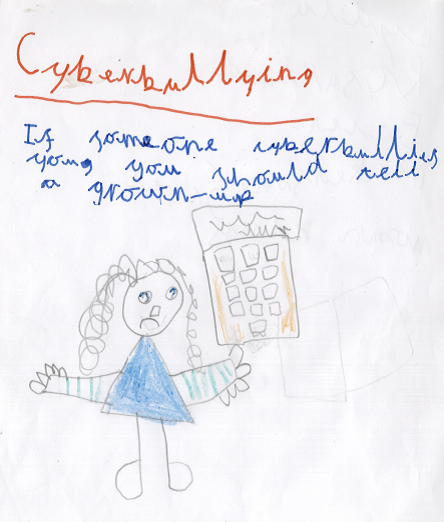 Fair Trade
We found about products which are fairly traded and as part of the school Harvest Assembly we gave a presentation to encourage chidlren to look out for the Fair Trade symbol when shopping.
Pupil Voice Research
School Council asked pupils in year 5/6 about lots of aspects of school life so that the school can think about how to improve. Please read our page 'Pupil Voice' in this same section of our website.