Dinner Menu
We are extremely fortunate to have excellent kitchen facilities and currently, well over half of all pupils eat a school meal at lunchtime. We operate a cafeteria system, offering a choice of dishes every day. The kitchen staff, led by Val, our cook, are extremely friendly and get to know the children well. They are invaluable part of making shared meals a special time in the day.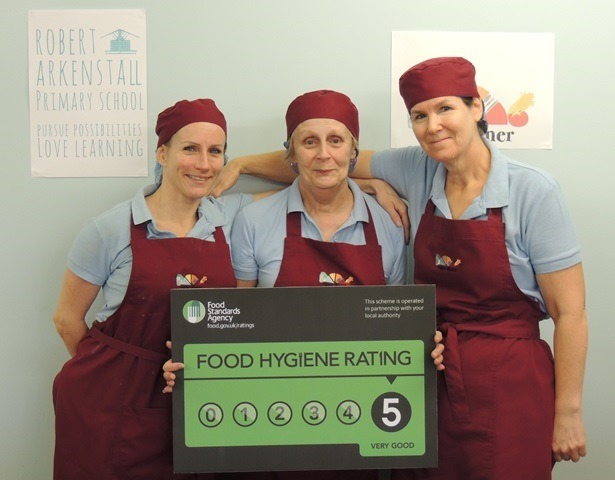 Last term we invited Better Lunchtimes UK to audit our lunchtimes and help ensure that all children enjoy a happy, healthy and calm experience. As our school has grown we felt it was right to explore how we can better cope with number of children negotiating the hall at
lunchtime. Better Lunchtimes spoke to pupils and staff and observed our cafeteria style service. They have produced a report which will help us to structure our lunchtimes to support the children more effectively. They were pleased to see children had plenty of play opportunities with a variety of activities on offer.
The significant issues they raised were around the children's experience of the dining hall:
Queues are long and pupils can be waiting in them for 7 minutes.
It is important to reduce long queues which are loud and anxiety inducing
Packed lunch pupils sit away from school lunches which creates difficulty for friends eating different lunches, to sit together
Children are walking around looking for a space to eat.
Due to the on-going movement of students staff are clearing around children still eating.
So from September they recommend we approach lunchtimes more like a restaurant style service. Children will sit on tables in zones so that they can sit with their friends.
Fruity water will be available for all children whether they are eating a packed lunch or not, so no need to pack a drink.
There will be three sittings with Yr R, 1 and 2 eating first, year 3 and 4 will have the second sitting and Yr5 and 6 will eat together before going back to class.
Children will know what time their sitting is, when and how long they have to play and will not have to queue. A table at a time will be called through to the kitchen. Tables will be cleared and reset between sittings so children find the hall clean and ready .
We are looking forward to making the dining hall into a socially encouraging and more enjoyable dining experience!
Children can choose to eat a school meal on a day by day basis and and there is always a choice of salad bar and deserts. Please scroll down for our current menu which can be downloaded at the bottom of the page.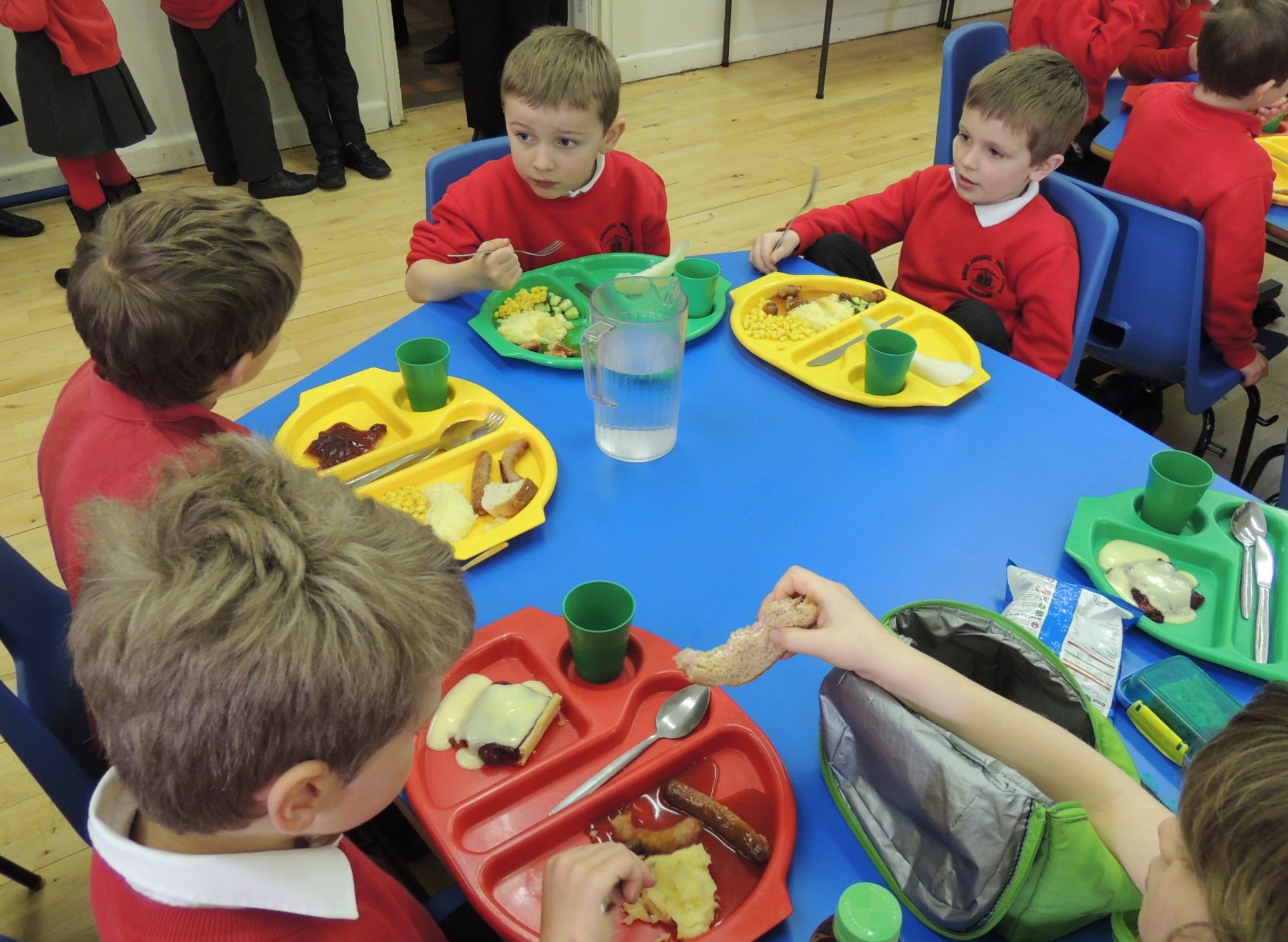 Meal times are a perfect time to celebrate special occasions and the kitchen staff like to make special menus for key events such as 'Children in Need' or Halloween. Last year we celebrated our football team's success with a special lunch. Of course, Christmas dinner is a highlight of the year. There is also the opportunity, for children celebrating their birthday, to invite their friends to a special birthday table - please book this with the office staff. Here they can enjoy their meal together and share a delicious birthday cake with candles to blow out and everyone singing 'Happy Birthday'!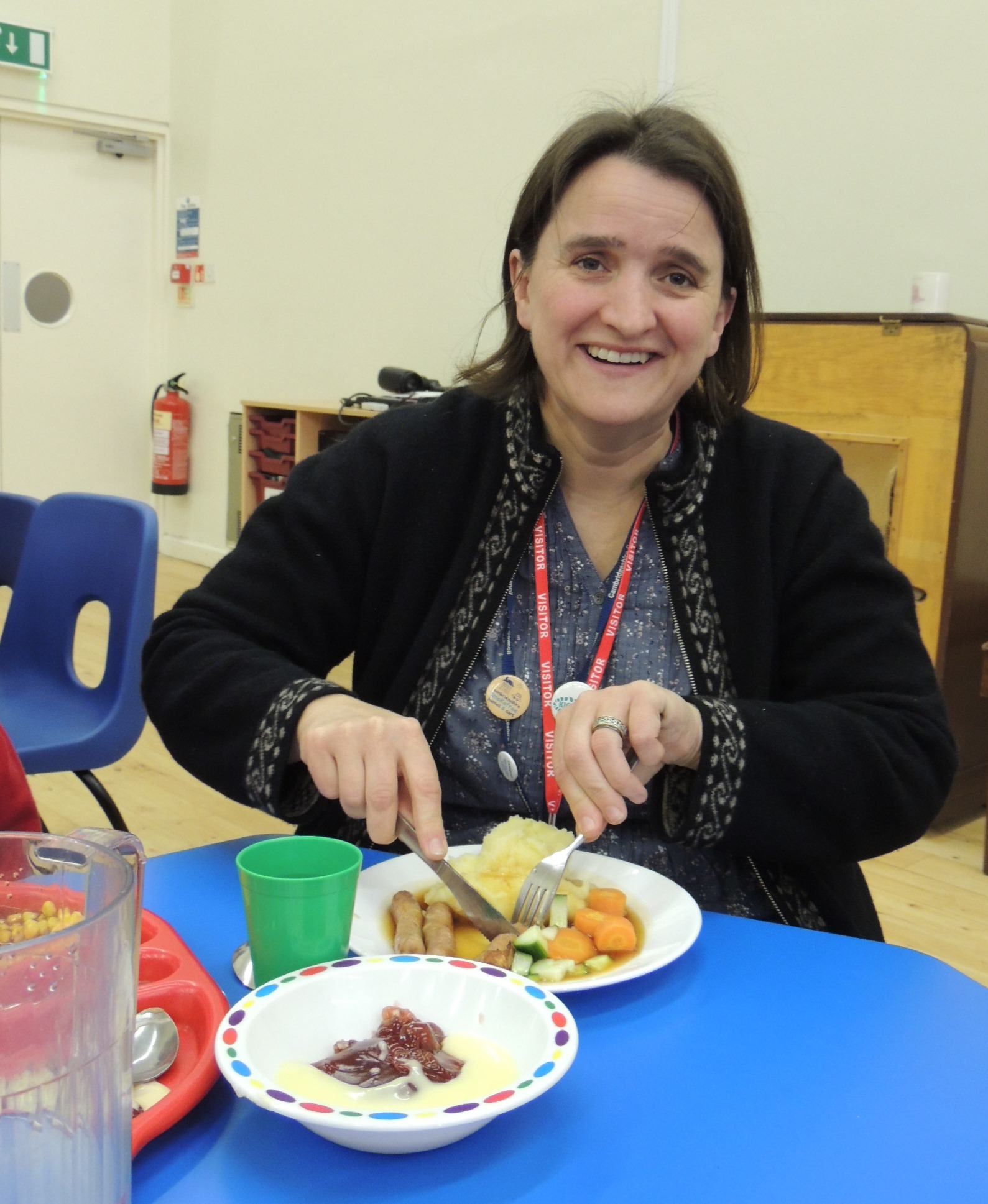 Our Chair of Governors drops in for lunch