Assessment
How We Assess Your Child's Progress
It is the aim of Robert Arkenstall Primary School to provide a broad curriculum and education of the highest quality within a happy, safe, secure and stimulating environment, which enables each child to experience success; to equip them with skills as thoughtful, caring and active citizens, eager to explore the possibilities of the world.
The principles that underpin our assessment system are:
● to enable our children to demonstrate what they know, understand and can do in their work;
● to allow teachers and teaching teams to plan work that accurately reflects the needs of each child;
● to help our children understand what they need to do next to improve their work;
● to provide regular information for parents that enables them to support their child's learning;
● to contribute towards accountability data.
In order to be 'secondary ready' children need to meet the required end of Key Stage 2 expectations; this is broken down into key outcomes for each curriculum year. We use the National Curriculum objectives to assess outcomes for children at the end of each curriculum year.
How do teachers measure children's progress?
Staff at Robert Arkenstall Primary School have worked together to develop an assessment system that takes into account the criteria of the new National Curriculum, whilst providing a greater focus on depth of learning. Assessment takes into account children's strengths as well as areas where they need support.
Our assessment and reporting system includes:
Ongoing in-school formative assessment, for example:
Ongoing questioning, observation and dialogue by the class teacher and supporting adults throughout each lesson.
Feedback of pupils work, this may be in the form of written or verbal feedback
Observational assessment, recorded in marking and feedback books in KS2 and on Daily plans in KS1.
Diagnostic checks
Regular short re-cap quizzes
Scrutiny of work for pupil attainment and development
All of the above feed into 'Data snap-shots', these will take place at class and subject level three times a year in for Years 2-5 and twice a year for Year 1.
Formative Assessment
Assessment for learning is at the centre of teaching and learning at Robert Arkenstall Primary School. Teachers will assess your child's attainment and progress in a range of ways.
Formative assessment, including day to day feedback and marking, analysis of diagnostics checks and standardised test, informs teachers' planning for future teaching and learning as well as school leaders' planning for professional learning and school improvement.
Age standardised scores as well as ongoing teacher assessments are recorded in FFT Aspire Pupil Tracking.
Your child's attainment and process within Reading, Writing and Maths will be shared with you within parent consultation meetings each term. You will receive a written report if your child's attainment at the end of the Summer Term.
Summative assessment
Taking account of all the evidence accumulated over a term, including the results of standardised tests or any other tests or other assessment activities, teachers arrive at a summative assessment of pupil achievement in reading, writing and mathematics. They evaluate current attainment by considering how well children have learned what has been taught.
Standardised Tests (from PIXLor QCA) are conducted three times per year for children in years 2-6. The results of these tests inform:
evaluation of the progress pupils make throughout the year and year-on-year;
moderation and benchmarking of standards and expectations across year groups within and between Trust academies;
triangulation of the evidence available to inform teachers' summative assessment judgements.
FFT Aspire Pupil Tracking
Teachers at Robert Arkenstall Primary make use of the FFT Aspire Pupil Tracking system to record all assessment outcomes including Teacher Assessments and Standardised Tests. Data in FFT is used to predict and target future attainment.
PiXL Partnership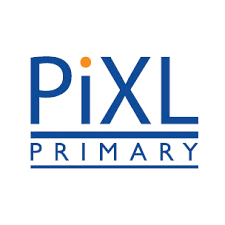 At Robert Arkenstall Primary School, we are proud to be a PiXL partner school. PiXL stands for Partners in Excellence and is a large network made up of thousands of schools, colleges and who work with schools to help give students of all ages a better future and brighter hope. They do this through working together to share best practice, raise educational standards and develop character in young people. PiXL's aim is to help every leader and teacher they work with to feel valued, loved, encouraged and equipped so that together we can make a difference.
PiXL's tailored programmes provides a wealth of classroom strategies and resources and brings school leaders and specialists together at regular conferences to share ideas and support.
Statutory National Assessments
Early Years Foundation Stage:
Baseline Assessment
At the beginning of the year a new national 'baseline' assessment shows everything children can do when starting school so that teachers know what they need to learn next. From then on, children in Reception are assessed against the Prime and Specific areas of Learning in the EYFS profile.
Assessments will be based on observation of daily activities and events. The team make a summative judgement half termly, based on information they gather from learning journeys and small group and individual assessments.
Early Learning Goals at the end of Reception.
At the end of their first year in school teachers will judge whether a child is meeting the level of development expected at the end of the Foundation Stage for each Early Learning Goal and this will be reported to parents/carers as:
Emerging, not yet reached the expected level of development
Expected, have reached the expected level of development
Phonics Screening Check
Year 1 children undertake a phonic screening check in June. These results are shared within your child's annual report.
Multiplication Check
Year 4 Children undertake a multiplication check in June which assesses recall of multiplication facts.
Standard Assessment Tests
SATs (Standard Assessment Tests) are taken by children in Year 6 during May. They assess within Reading, Writing, Maths and spelling, punctuation and grammar.
You can see more detail on children's outcomes here.