Pupil Voice
Vertical Circle-time
This year, we wanted to ensure all of our pupils have an equal voice within school. As a result, we have introduced Vertical Circle-time assemblies. These take place on the first Monday of each Half Term. For these assemblies, the children are mixed up into groups across the Key Stage with one adult and one School Council representative within each group.
Within each session, the whole school take part in a discussion around the same theme. Adults and School Council reps make notes during these discussions which are then fed back to the whole School Council within their next meeting .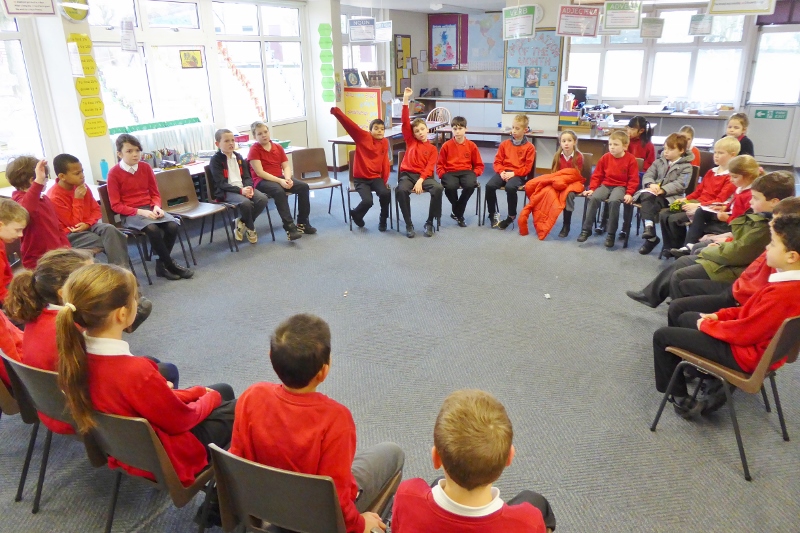 Themes for these assemblies come from important topics arising within school. These may come from pupil voice questionnaires, parental questionnaires or staff/governor meetings.
Themes so far this year have included: School Dinners, Anti-bullying and Playtime Equipment.
Pupil Survey
During the Summer Term, our School Council conducted a pupil survey using a questionnaire similar to the Parent View questionnaire to gather opinions from Upper Key Stage 2 to find out how pupils feel about various aspects of school life. Please open the attached document to read the full graph.
Feedback from the School Council:
As a School Council, we really enjoy the opportunity to share our thoughts and opinions about school life and wanted to do a survey to find out about the views and opinions of other pupils within our school, giving them the same opportunity! We are really pleased with the results and are using these to identify areas for improvement.
We were really pleased to see that 96% of pupils would recommend our school to a friend! We were also particularly pleased to see that 91% of pupils felt that our school works hard to prevent bullying. 'Anti-bullying' was a big focus for School Council last term and we will continue to work together as a school to 'make a noise' about bullying and aim for this percentage to become even higher.
One area for improvement that stood out to us by doing this survey was assemblies. As a result, we have been thinking about ways to 'revamp' our assemblies and look forward to hearing more of your views about how we can do this!
Over the next few weeks, we will be trialling out some of our (and your!) ideas to make our assemblies more fun and interactive! So… pupils of Robert Arkenstall, be prepared to take part in role-plays, games and quizzes and please let us know of any ideas you have too!